What is Mid-Century Modern?
While shopping for furniture or decor, you doubtless have noticed that mid-century modern (MCM) designs are trending.
You probably have noticed certain unifying design principles for these items, but you may not be entirely clear on what mid-century modern is and how to recognize it.
It doesn't help that there are multiple schools of thought when it comes to providing a definition for what is more an umbrella of styles than any single style.
Also complicating the matter is that a lot of merchandise which is marketed as mid-century modern has nothing to do with it whatsoever.
In this article, we will talk about what constitutes mid-century modern to give you a deeper appreciation for the evolution of architectural and furnishing designs through the 20th century.
Along with adding to your knowledge of architecture, design and history, this overview will also guide you in recognizing and selecting mid-century modern items for your own home or office.
Defining the Era of Mid-Century Modern
Let's say you are looking at a furnishing designed in or based upon designs from the 1930s. Is it mid-century modern, or not?
It isn't a trick question, but it has a tricky answer, because it depends on who you ask.
Some people define mid-century modern as encompassing the years between 1947 in 1957—just a single decade in design.
But others provide a much broader definition for mid-century modern, encompassing designs from approximately 1933 through 1965. Some people even consider MCM to span a period up until the early 70s.
Perhaps one of the reasons for such varying definitions is because when the phrase was popularized, it was done quite casually by the author of a book in 1984.
Cara Greenberg was writing a book about 1950s furnishings, and needed something to call it. So, she came up with the title, Midcentury Modern: Furniture of the 1950s. The phrase stuck.
But Greenberg was not the first person to use the term, because the Philadelphia department store Strawbridge & Clothier employed it as far back as 1948.
Starting during the 80s, and continuing through the 90s and after the turn of the century, furnishings in the mid-century style achieved an epic comeback.
Mid-century modern pieces started to show up in popular culture and multimedia as prices rose for collectors items.
So, mid-century modern was further popularized by shows like Mad Men and even The Daily Show.
What Characterizes the Mid-Century Modernist Style?
Because mid-century modern spans such a broad time period and incorporates a few different influences, you may find significant variation between different designers or different eras.
On the whole, however, the following features characterize most mid-century pieces you will encounter:
Clean lines
Simplicity
Lack of embellishment
Both straight lines and organic curves
Well-defined geometric forms
A wide variety of materials
Mid-century designs were usually aimed at the middle class, and were supposed to be functional, convenient, and stylish. As such, they have a strong association with the growth of suburbs after World War II.
In terms of tone, MCM can range wildly between playful and sedate. So whatever effect you are looking for, you should be able to achieve it by selecting the right furnishings and decor.
Why Choose the Mid-Century Modern Style?
Here are a few reasons to think about purchasing mid-century modern furnishings and decor for your interior:
Fits well with pretty much any décor. MCM furnishings can easily be incorporated into any interior. Whether your home has a modern, industrial, classic or even a rustic look, the mid-century style will complement your interior.
A clutter-free appearance. The clean, minimalist lines of MCM furnishings bring simplicity and order to your interior.
Nostalgic. If you want to escape into simpler times, the mid-century modern style is evocative of such times, particularly the post-war era of prosperity and growth following World War II.
Recognizable. You can be sure that other people will notice your mid-century modern furnishings and ask about them, perhaps recognizing the style from Mad Men.
Functional. Designed as much for comfort and convenience as for aesthetics, MCM furnishings offer excellent functionality.
Bold, classy and elegant. You can't beat the refinement and taste which MCM furnishings embody.
MCM Architecture
The best way to understand what constitutes mid-century modern design is to look at some examples. So, let's start by looking at a few architectural examples of MCM.
Dulles Airport
Above, you see the main terminal of the Dulles Airport in Virginia, designed by Eero Saarinen in 1958. Notably, this is the same architect who designed the famous St. Louis Gateway Arch.
Constructed largely of steel, concrete and glass, the airport terminal seems to reach for both the sky and the future with its upward curve.
Because the roof is made of heavy concrete and the walls consist largely of glass, the building conveys the illusion that the roof would be impossible to support. Nevertheless, the outward-leaning columns along both sides are up to the task.
The Stahl House
The image above is of the Stahl House, sometimes called the Case Study House, located in Los Angeles. Pierre Koenig designed the structure, which you may recognize from a variety of films and music videos.
Once again, we see simple, clean lines and walls which are largely made of glass. This time, organic curves have been replaced by straight lines and angles.
Bullock's Pasadena
Finally, here is Bullock's Pasadena, a 1944 structure designed by Welton Becket and Walter Wurdemen. When it opened, it was marketed as the "store of tomorrow." Note once again the use of concrete and glass as well as smooth organic lines.
While an example of MCM architecture, this building also exemplifies the style known as "streamline moderne," which was essentially what art deco evolved into after the 20s.
MCM Furniture
Now that we have checked out some architectural examples of MCM, let's take a look at a few examples of famous mid-century modern furnishings.
The Tulip Chair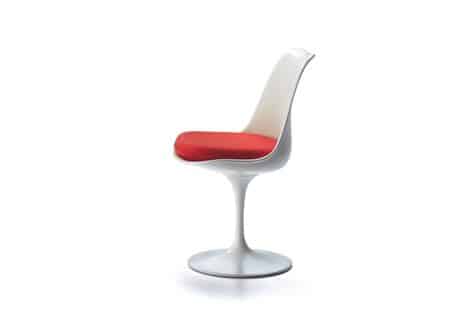 This is the iconic Tulip Chair, designed by Eero Saarinen in 1955 and 1956, the same architect who designed the Dulles Airport.
The eye is immediately drawn to the smooth, organic lines underneath the chair. Explaining, Saarinen said: "The undercarriage of chairs and tables in a typical interior makes an ugly, confusing, unrestful world. I wanted to clear up the slum of legs. I wanted to make the chair all one thing again."
Originally, fibreglass would've been used for the chair's base, but it was not strong enough, thus cast aluminum was used instead and was finished to match the upper shell, giving the illusion that the two components are one.
The bold red cushions make for a vivid contrast with the white base and upper shell.
The Egg
Another iconic chair from the MCM movement is the Egg, designed in 1958 for the Radisson SAS Hotel in Copenhagen, Denmark, by Arne Jacobsen.
This particular Egg features another similarity to the Tulip with its bright red upholstery, but other fabrics and materials have been used to upholster this model of chair as well.
The Barcelona Chair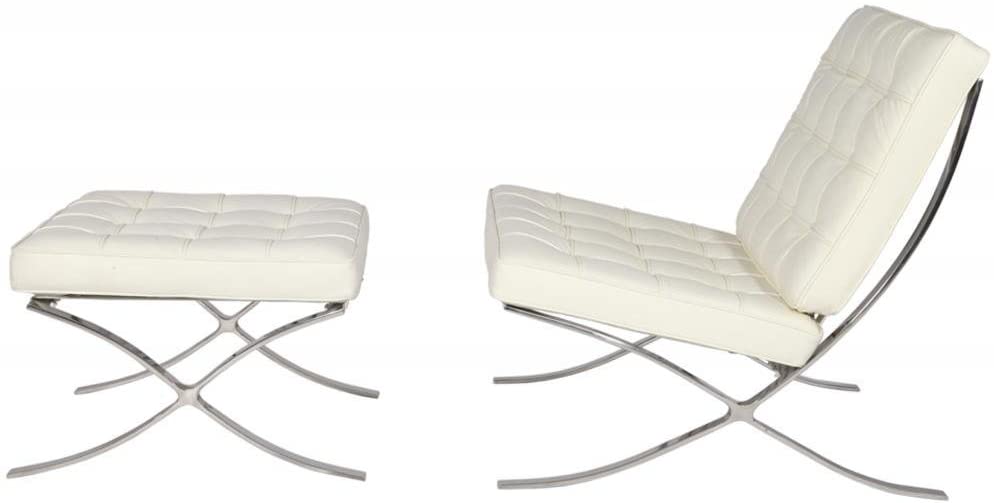 Very different from the Tulip and the Egg is the Barcelona Chair. Ludwig Mies van der Rohe and Lilly Reich designed this chair for the German Pavilion at the International Exposition of 1929 in Barcelona.
Like many other MCM furnishings, the Barcelona chair sits low to the ground and features prominent planes and horizontal lines. A single piece of stainless steel comprises the frame. Knoll Inc. has manufactured these chairs since 1953.
Notably, this chair is an example of Bauhaus design. Bauhaus was one of the key influences of the MCM movement, especially following World War II.
LC4 by Le Corbusier, Pierre Jeanneret and Charlotte Perriand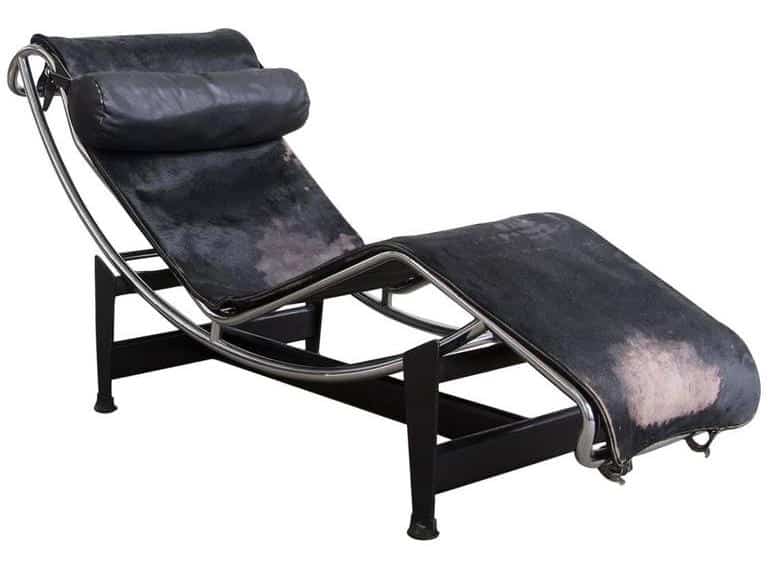 This fascinating lounge chair features a frame with a prominent arc that swoops underneath. The effect this swoop creates is one of "motion," even though the chair is static. Indeed, with its industrial appearance, it was described as a "resting machine."
LC3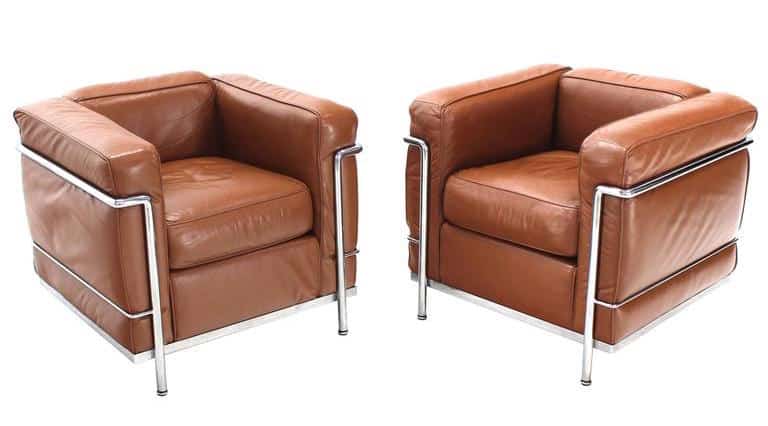 The same design team which brought us the LC4 "resting machine" also created the intriguing LC3. This chair has a distinct cube-like appearance. Indeed, the bulk of the chair seems to be composed of stuffing and upholstery, with the seat "hollowed out" of the middle and top. The cushions and bolsters are held together by minimalist steel framing. The result is compact and eye-catching.
Swan Chair
This Danish modern style chair was designed in 1958 by Arne Jacobsen, who created it for the Radisson SAS Royal Hotel in Copenhagen.
The base is satin-polished aluminum, while the upholstery may be either fabric or leather. What draws the eye with this chair is its utter simplicity and the elegant way that form quite literally follows function.
Like many other MCM designs, there is an emphasis on "oneness." Indeed, there is no separation between the arms of the chair and the seat. Rather, the seat itself curves upwards to form the arms. This gets the effect of wings, which together with the smooth curves of the chair could be one of the reasons for its name being "Swan."
MCM Décor
While most attention falls on MCM furnishings and architecture, you can also purchase decorative objects in an MCM style. One example is the wood plant stand you see below.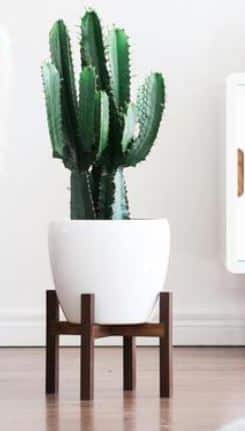 MCM Graphic Design and Typography
While shopping for MCM furnishings, you might also look for examples of graphic design or typography to display in your home.
What you are looking at above is a "Linen Type" postcard. Unlike the smooth postcards we exchange today, these postcards had a linen-like texture. Themes of progress, technology suburban life, travel and cities were common.
In the smooth curves of the train on this postcard, you can see those themes reflected along with some principles of streamline moderne design.
As you might expect, MCM produced some intriguing typographical designs as well. Perhaps the best-known example is the famous Eichler Numbers.
Who Are Some Famous Mid-Century Modern Designers and Proponents?
Joseph Eichler
This American post-war developer was famous for his 11,000 Eichler Homes located throughout California. If you see hints of Frank Lloyd Wright in his home designs, you are not imagining it—his family lived in one briefly, and it influenced him. Working with architects like Robert Anshen, A. Quincy Jones, and Raphael Soriano, he was a pioneer suburban planner.
Eero Saarinen
You are already somewhat familiar with Eero Saarinen, since we shared his designs for the Dulles Airport and the Tulip Chair. This Finnish-American architect and designer was the son of another architect, Eliel Saarinen. He studied alongside other prominent MCM figures including Charles and Ray Eames and Florence Knoll.
Indeed, it was the Knoll furniture company that manufactured many of Saarinen's furnishings. Among these were the Womb chair and ottoman, the Womb settee, and the Grasshopper lounge chair and ottoman.
Sadly, he only lived to age 51. Otherwise, he would have been able to grace us with far more designs than he had a chance to conceive.
Arne Jacobsen
This Danish Architect designed the Egg Chair and the Swan Chair. He designed these chairs while he was working on the Royal Hotel Copenhagen and the SAS Air Terminal, two of his most famous projects. He put an emphasis on making sure that his work was well-proportioned for a beautiful effect.
Charles and Ray Eames
This married couple both worked as industrial designers, and opened a design office called the Eames Office. For four decades, they worked 13-hour days to put iconic MCM designs out into the world, most notably the Eames Lounge Chair.
As an intriguing aside, these two were responsible for the famous "Powers of Ten" short film about the scale of the universe, which you may have seen at some point of your life, perhaps while visiting a science museum.
What Are Some Iconic MCM Manufacturers?
Herman Miller
This company was originally known as Star Furniture Co., and was founded in Michigan in 1905. It didn't become known as Herman Miller, Inc. until 1960.
But it was actually clear back during the Great Depression that the company first made forays into modernism by bringing designer Gilbert Rohde onboard. This adaptation was made in order to stay afloat during challenging times.
During the Chicago World's Fair in 1933, the company debuted its first modern furnishings line. After Rohde died in 1944, architect George Nelson took his place. Under Nelson's leadership, the company forged relationships with Charles and Ray Eames, Alexander Girard, and others.
Indeed, it was Herman Miller that manufactured the previously mentioned Eames Lounge Chair. Some other famous pieces included the Marshmallow Sofa, the Noguchi Table and the Ball Clock.
Herman Miller still exists today, and continues to produce furnishings for the home and office.
Knoll, Inc.
The history of Knoll, Inc. dates back to 1938, when Hans Knoll created the company in New York City. His wife, Florence Knoll, eventually took over operations after he died in 1955.
You will recall that Florence studied alongside Eero Saarinen, and that the Knoll company eventually manufactured his designs.
Ever since 1953, as previously discussed, Knoll also has been making Barcelona chairs.
Other famous chairs which Knoll has manufactured include the Hardoy Chair by Jorse Ferrari-Hardoy and the Wassily Chair by Marcel Breuer.
Like Herman Miller, Knoll is still in existence, and still sells mid-century modern furniture.
How Affordable is MCM Furniture?
If you look up various mid-century modern furnishings, you will notice that it is common for them to carry pretty steep price tags.
For example, if you wanted to purchase a brand-new Barcelona chair directly from Knoll, you could get an authentic chair for more than $6,000 as of the time of this writing.
You might pay significantly more than that if you wanted to obtain a Barcelona chair which was prominently displayed in a famous location or belonged to a famous individual.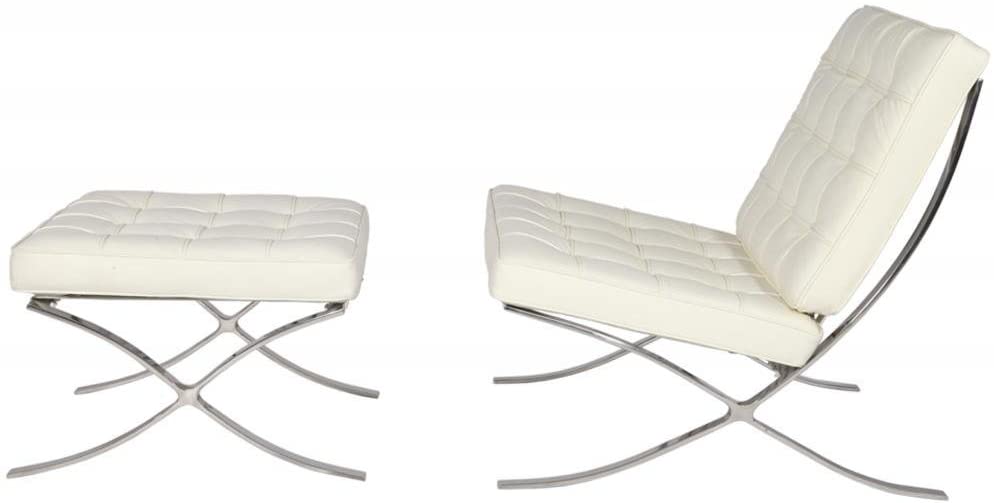 But if you are not dead-set on getting an original collector's item, you can purchase an eMod – Mies Barcelona Chair Reproduction Replica for well under $1,000.

There are some cheaper replicas out there as well (some of them for under $300), but not at the same quality level as the eMod product.
The Barcelona chair is just one example, too. If your budget is higher or lower, you will find plenty of different options for functional and aesthetically pleasing mid-century modern furnishings for your home or office.
Where to Shop for Mid-Century Modern Furnishings and Décor Today?
We hope you enjoyed this overview of mid-century modern furnishings, architecture, and design.
The more you learn about MCM, the easier it will be for you to identify collectible originals as well as high-quality replicas and reproductions.
Continue exploring our site to add breadth and depth to your knowledge of mid-century modern, and to find out where you can shop for beautiful, quality MCM furnishings and more.
Additional Sources:
https://sf.curbed.com/2017/5/30/15714602/architecture-san-francisco-joseph-eichler-bio-history-sf-midcentury
https://nonagon.style/guide-famous-iconic-mid-century-modern-designers/
https://creativemarket.com/blog/mid-century-modern-graphic-design