Architectural Designs MCM House Plans
Architectural Designs is a family-owned business that has been selling house plans for decades. The Connecticut-based company offers plans from more than 200 designers and architects. Their entire portfolio includes more than 30,000 plans, including several in the mid-century modern style.
New plans are added daily. They can be purchased as-is, or you can modify plans to suit your needs. The company has been awarded the Best of Houzz Service award every year since 2014.
Before we get into the mid century modern plans offered by Architectural Designs, let's take a refresher on the MCM architectural style.
MCM Style For Beginners
Mid century modern has been around for decades, and it remains popular to this day. After WWII, Bauhaus architects and designers migrated to America and started what became known as the mid-century modern style.
Some original mid century modern designers include Walter Gropius, Frank Lloyd Wright, Ludwig Mies van der Rohe and Marcel Breur.
The style is both simple and functional. The distinguishing features of this style include:
Clean lines: Straight lines and right angles are critical components of this style. Homes of this style often have low, flat roofs.
Minimalism: While some designs are more ornate than others, most mid century modern homes prioritize minimalism. Muted colors, simple furnishings and minimal ornamentation are key elements of this style.
Organic and geometric forms. Many homes in this style make use of organic materials, like wood, brick and stone.
Natural light: Floor-to-ceiling windows are common in mid century modern homes. They allow homeowners to enjoy an abundance of natural light. This home style also incorporates sliding glass doors and many access points to outdoor areas.
Late mid-century modern designs incorporated plastic into their designs as well as wood and other non-traditional materials, like vinyl, glass, Lucite, plywood and Plexiglass.
A vast range of colors can be incorporated into this style, from neutrals to black, white and bold colors.
After WWII, Americans placed greater emphasis on family time and reconnecting with nature. Mid century modern home designs were a reflection of these ideals by incorporating large windows that offered views of the great outdoors. Living spaces were open to allow for easy entertaining. Kitchen upgrades allowed homeowners to spend more time with families and less time maintaining their homes.
Mid Century Modern House Plans for Sale from Architectural Designs
Architectural Designs offers several plans in the mid century modern style. Some of the most popular plans include:
Offering 2,828 square feet of space, this plan has 3 bedrooms and 2.5 bathrooms across a single floor. There's also a two-car garage as well as a single carport.
The interior of the home features an open layout. The back of the home features a covered patio area that's perfect for outdoor entertaining and enjoying those warm summer nights. The front courtyard is surrounded by a privacy wall, allowing you to enjoy even more space outdoors. Just off the courtyard, which spans 513 square feet, is a pantry.
In total, this home offers 962 square feet of patio space in the rear.
The master suite and home office are situated on the right side of the home, while the two family bedrooms are on the other side of the house.
The living area features a grand fireplace. The dining, kitchen and living areas are all open to allow for easy entertaining.
The home offers an abundance of windows for natural light and to bring the outdoors in.
Home Specs
Width: 94'
Depth: 74'6"
Exterior Walls: 2×6
Ceiling Height: 10'
Framing: Stick and truss
Foundation: Slab
Attached Garage: 498 square feet
Spanning 1,899 square feet, this home offers plenty of space for small families or couples looking to downsize. The home features two bedrooms and two bathrooms across two floors as well as a two-car garage. It offers ideal living/work space.
The two-story home features a flat roof style with corner glass windows. The living areas are on the first floor, while the two bedrooms are on the second floor.
The front-facing office is ideal for working at home and features a built-in desk area. The living area features vaulted ceilings, a large fireplace, built-in seat and built-in media center. The downstairs features a bath area as well as a private sauna.
Upstairs, you'll find a vaulted master bedroom and vaulted guest room.
If two bedrooms isn't enough for your needs, there's also three- and four-bedroom variations of this plan.
Home Specs
First floor square feet: 1,178 square feet
Second floor square feet: 721 square feet
Foundation: Crawl
Exterior Walls: 2×6
Width: 40'
Depth: 57'
First floor ceiling height: 9'
Framing: Stick
Garage: 470 square feet
The home's many built-ins offer convenience and a clean way to keep your home organized.
Efficient and elegant, Plan 66791MG offers 1,627 square feet of space, with 2 bedrooms, 2 bathrooms and a 2-car garage. This is a single-story home with 4' deep eaves to create a covered entryway.
The open floor plan includes a vaulted living area with open kitchen and dining spaces. Ceiling heights range from 9'9" to 11'5."
The home's two bedrooms are located on the right side of the home, and each has its own bathroom. The master suite also offers access to a covered patio area.
The rear porch has 333 square feet of space, while the front porch spans 80 square feet.
The large living room offers a fireplace, hearth and a 16' built-ins. The foyer leads to a separate den area, which could easily serve as a home office. The spacious room has three windows to allow in natural light and offer views of the outdoors.
Off the garage area is the mud room, which provides space for a washer and dryer. It also has a built-in bench and a pantry area.
Moving along the hallway, you'll find a large walk-in-closet and the second full bathroom.
Home Specs
Width: 42'
Depth: 58'
Exterior Walls: 2×6
Ceiling Heights: 8'-11'5"
Foundation: Crawlspace
Garage: 436 square feet
For growing families, Plan 44147TD offers plenty of space. The home features 2,517 square feet of space, 3 bedrooms and 2 bathrooms. There's also a two-car garage.
This home has a vaulted interior that runs from the front of the house to the back. Standing in the foyer, you can enjoy views that extend all the way to the back of the house. The entire back wall of the home is made of glass, allowing for wide-range views of the outdoors.
A set of French doors leads to the back porch, which runs along the entire back of the home. The porch is 12' deep, so there's plenty of space for entertaining. In total, the porch areas span 672 square feet.
The home offers a split layout for the bedrooms to maximize privacy. The front corner of the home features office space that's far away from noise and distractions.
The master bedroom offers a large walk-in closet, as well as a full bathroom with a tub, shower and vanity with dual sinks.
Home Specs
Width: 56'
Depth: 92'
Exterior Walls 2×6
Foundation: Slab
Framing: Truss
Ceilings: Vaulted
Garage: 455 square feet
An economical mid century modern home that offers 2,690 square feet of space, 3 bedrooms and 2.5 bathrooms. The home spans two stories and offers a two-car garage.
The home is considered economical because it offers a simple rectangular design. The exterior is a simple design featuring stone and cedar shake with a hip metal roof.
Home Specs
Width: 21'
Depth: 77'
First floor: 1,150 square feet
Second floor: 1,540 square feet
Exterior Walls: 2×4
Foundation: Slab
Ceiling Height: 8'
Framing: Truss
Garage: 464 square feet
Plan 44074TD offers 2,818 square feet of space, with 3 bedrooms, 2 bathrooms and a two-car garage.
This updated mid century design offers a welcoming front patio area with a built-in bench. The simple exterior features a sloped roof and stone accents.
The sunken living room is situated just off the dining area, and it features a large stone fireplace. Glass doors lead you outside, where you can enjoy your outdoor entertaining area.
The layout includes a home office, which can serve as a fourth bedroom.
The interior has 10' flat ceilings all throughout, with the exception of the living area, which has 11' ceilings.
The home also offers energy efficiency, with R-30 spray foam insulation in the walls and roof. An on-demand water heater sits in a central utility closet.
Home Specs
Width: 85'
Depth: 53'
Exterior Walls: 2×6
Foundation: Slab
Garage: 469 square feet
Framing: Truss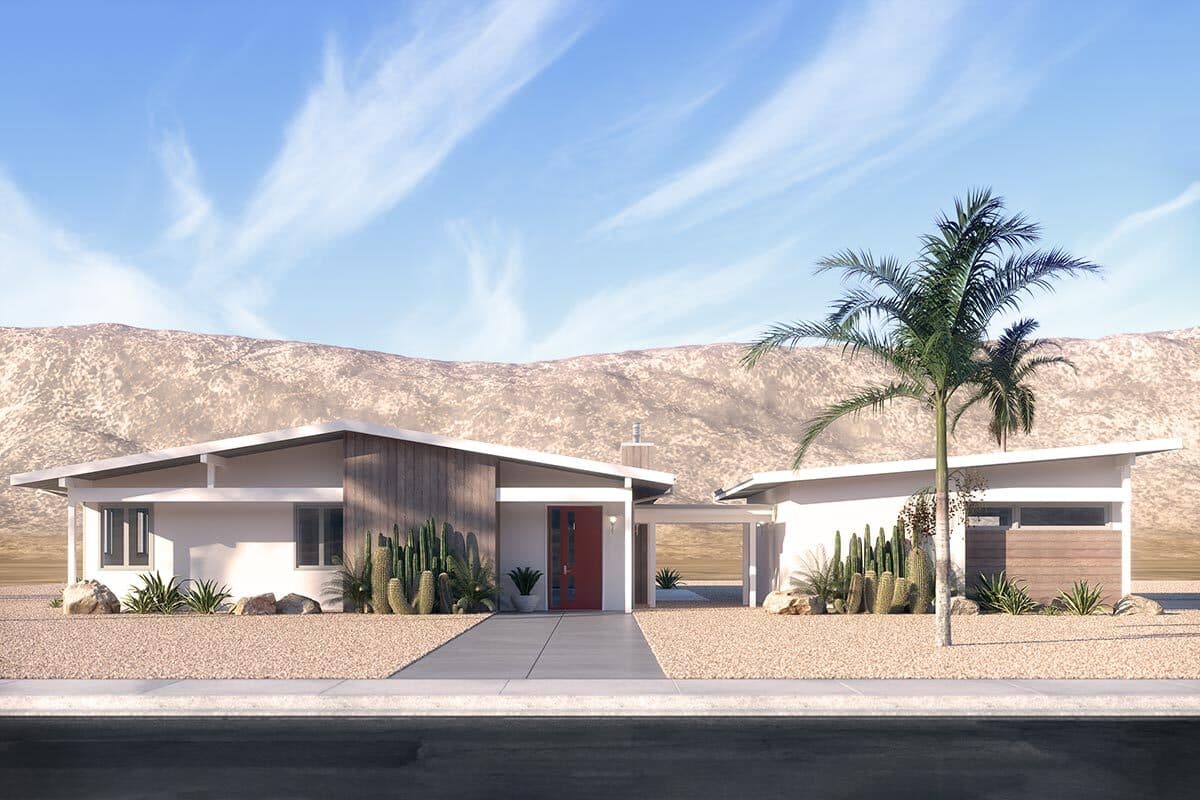 The Southwest Mid Century Modern house plan from Architectural Designs is the perfect place to show off your modern southwest décor. With a spacious, open interior and an attached garage, this home offers all of the luxuries of modern living. This one-story, ranch-style home is handicap accessible and offers plenty of space for outdoor entertaining….
What's Included with These House Plans?
The plans from Architectural Designs include the following:
Cover sheet
Roof and floor plans
Typical wall sections
Exterior elevations
Interior elevations
Ceiling treatment plans
Electrical floor plans
What's Not Included?
The site plan, which is handled locally
Architectural or engineering stamp
Mechanical drawings (subcontractors take care of this)
Plumbing drawings (subcontractors take care of this)
Energy calculations