Crosley Everett Mid-Century Modern Record Player Cabinet & Media Console
If you have been looking for a retro-style record player cabinet and media console, the Crosley Everett Mid-Century Modern Cabinet may fit beautifully with your personal style. Housing both your record player and your albums, it is the perfect way to honor and enjoy your collection while adding MCM charm to your interior.
In this in-depth product overview, we will explore the specs and design details which make this MCM-inspired media console a must-have furnishing for your home.
About Crosley
Before we talk more about the media console, let's first introduce Crosley for those who are not familiar with the company.
Crosley crafts both indoor and outdoor furniture. Describing its design philosophy, the company writes, "Crosley's collection embodies a clean, timeless style and is built for residential environments …  to last and offered at an affordable price, experience the timeless luxury of Crosley Furniture."
It is easy to see how mid-century modern furnishings fit within this design philosophy as they also embody a clean, timeless look.
The Crosley Mid-Century Modern Record Player Cabinet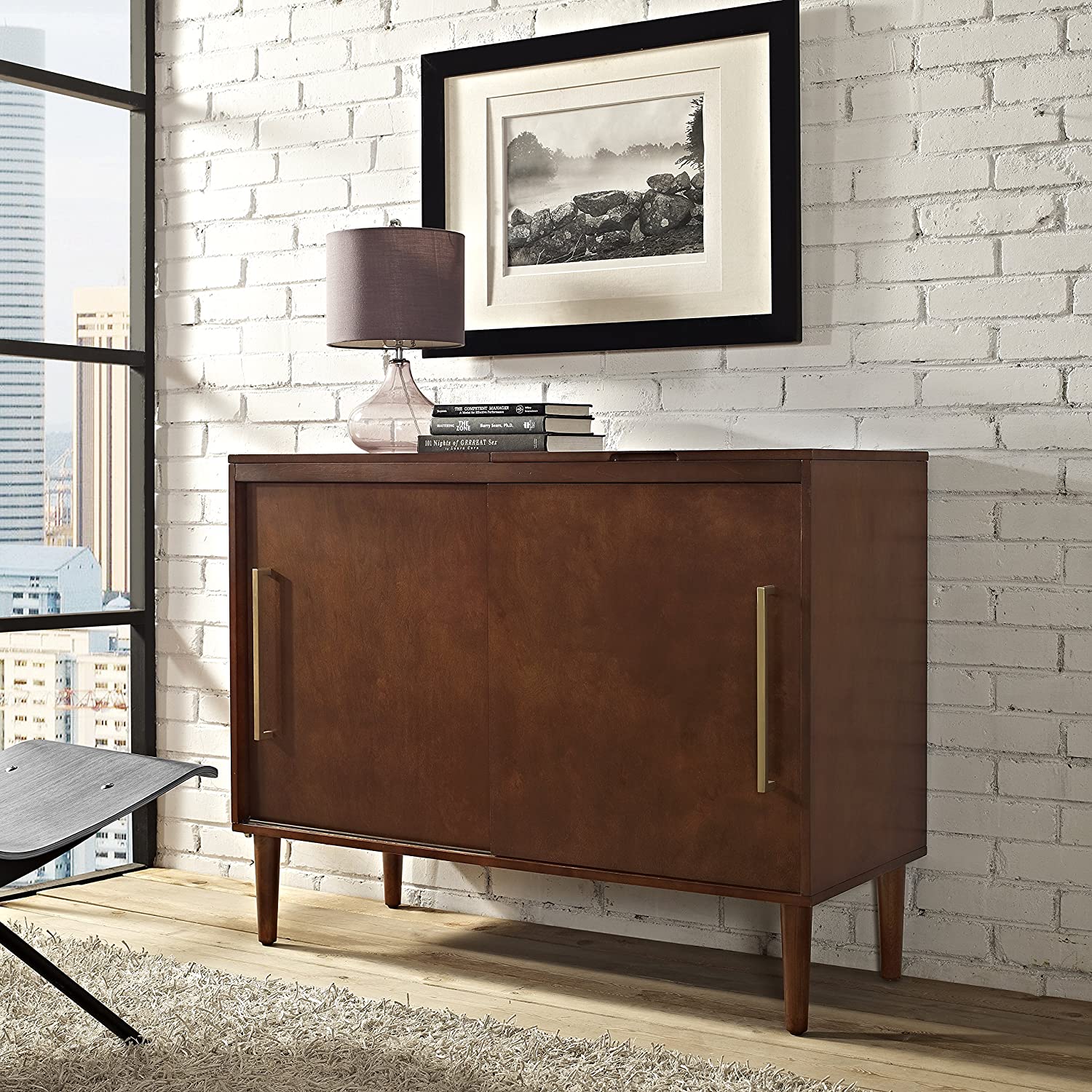 Now that we have talked about the manufacturer of this media console, let's check out the Crosley Everett record cabinet in-depth!
Specs:
44.00″ W x 18.00″ D x 34.25″ H.
Available in Acorn or Mahogany.
Be sure to look closely at the measurements, as not everyone has found that the dimensions of the console are right for what they want to store. You should be able to fit around 75 albums inside.
MCM Style

The appearance of this media console is classic MCM. The cabinet is in essence a simple, unadorned rectangle with a hand-rubbed finish. This design keeps the focus on the pleasing geometric form of the console as well as the beautiful texture and finish.
Rather than opening outward, the doors on the front slide to either side to offer you access to the interior. When they are both closed, the two long metal handles are located on either end, the console's only embellishment.
The console sits on four thin, tapering legs, again classic MCM design. Because the legs are so minimalist, the bulk of the cabinet appears almost to hover weightlessly above.
Uniting Form With Function
Like other Crosley furniture, the Crosley Everett MCM Record Cabinet was built to be both stylish and practical.
Crosley explains, "Sure to be a conversation starter, our console was designed around that most classic of media components, the record player. The heart of the stand is the specially designed turntable compartment. Cleverly tucked into the top of the unit, the record player can be accessed through a hinged lid that remains hidden when not in use."
In other words, the record player is completely concealed within the unit in such a way as to not increase its bulk or disrupt its elegant form in any fashion. Moreover, accessing it is easy and ergonomic. As for the cords, you can run them through a hole which is pre-cut in back.
Inside the main part of the media console, there is a set of wired dividers which you can use to sort your collection. The console also includes shelves which are adjustable for your needs.
You should note that the shelf on which the record player itself rests it is not adjustable. The other shelves which you can adjust are located on the other side of the unit.
Pros of the Crosley Everett MCM Record Cabinet:
This record cabinet is beautiful to look at. With its elegant, sophisticated design, this retro mid-century modern style record console can add refinement and nostalgia to your interior.
There is plenty of storage inside which is configurable to your requirements. The simple shape of this console makes for plenty of room within. And since you can rearrange the shelves as you need to, you can find space for large and small accessories alike.
It is easy to access the turntable. Simply pull up on the hinged lid, and you can reach down to switch out your records or play them.
The cabinet features high-quality materials that can stand up to lots of use. The body of the cabinet is actually high-density fiberboard, not wood. But both in terms of appearance and sturdiness, it can easily be mistaken for solid wood. All hardware components are metal. So, this record console can stand the test of time.
This record cabinet will complement and enhance any interior. One of the reasons mid-century modern design has only grown in appeal over the decades is because it is so versatile. No matter what type of decor you have settled on for the rest of the room, the elegant minimalism of the Crosley Everett MCM Record Cabinet should fit right in.
Enjoy a look which is at once nostalgic and timeless. MCM design like that featured in the Crosley Everett Media Console can whisk you away to a simpler time and imbue your home with a retro ambience. At the same time, because MCM has remained popular throughout the 20th century and beyond, the look is becoming timeless. When you purchase the Crosley Everett MCM Record Cabinet, you can be assured that it will never go out of style, and you will never need to replace it to update your look.
The price is excellent. This is a reasonably priced media console. Although it is not solid wood, it is solidly-built, and it is an excellent value for your investment.
Cons of the Crosley Everett MCM Record Cabinet:
The only significant drawback of this furnishing is that assembly requires some work and care. It may take some extra effort to attach the upper lid. You have to measure carefully as you go. You should set aside a couple of hours to work on it, and you may want to look up with other users have said about the assembly process before you get started.
Get the Crosley Everett MCM Record Cabinet Now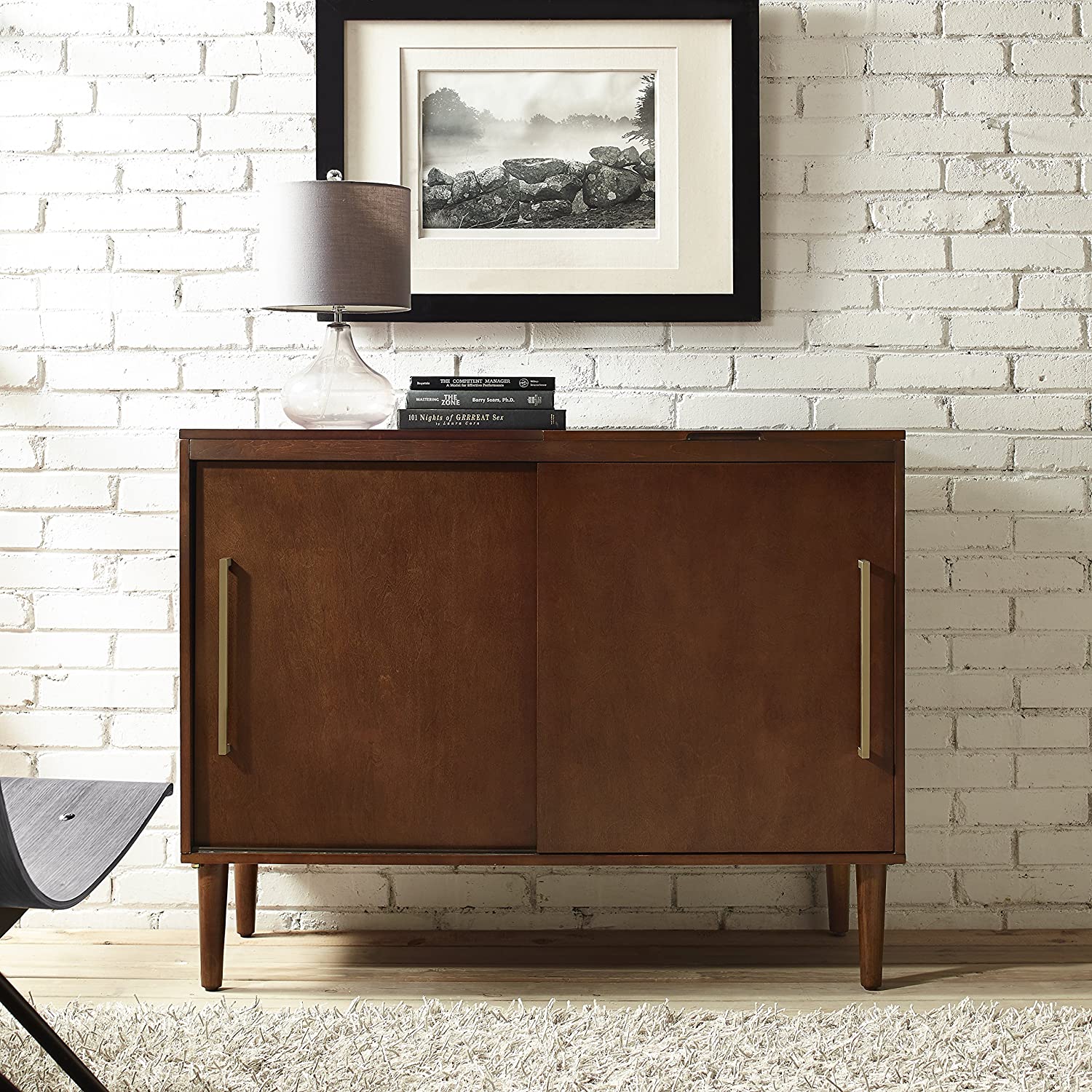 You now have had a chance to explore the beautiful, functional design of the Crosley Everett Mid-Century Modern Record Player Cabinet & Media Console in-depth. We have talked about its appealing MCM style, its practical, functional design, its configurable interior, and its high-quality materials.
Ready to add the Crosley Everett MCM Record Cabinet to your interior and house your turntable and records in all the luxurious style that they deserve? Click below to purchase the Crosley Everett Mid-Century Modern Media Console now.