Wrensilva | A Modern Take on Vintage Record Player Consoles
Wrensilva offers some of the highest quality record player consoles in the industry. Offering vintage style with modern features, their consoles blend into your home, allowing you to enjoy a next-level listening experience right in your living room.
Featured in Sound&Vision, Es quire and other high-profile publications, Wrensilva is, rightfully, making a name for itself in the record consoles industry.
Who is Wrensilva?
Wrensilva is a company out of California that was founded in 2016 and offers HiFi record consoles aimed at audio connoisseurs. Their SONOS mid century console designs marry contemporary and vintage to elevate the home music experience.
Wrensilva's consoles are created by skilled artisans right in California using the highest-quality hardwoods. Their founding team includes a mix of artists, sound engineers and designers.
The company has a showroom in San Diego, CA, and they offer financing through a third-party lender.
Wrensilva's M1 Flagship Console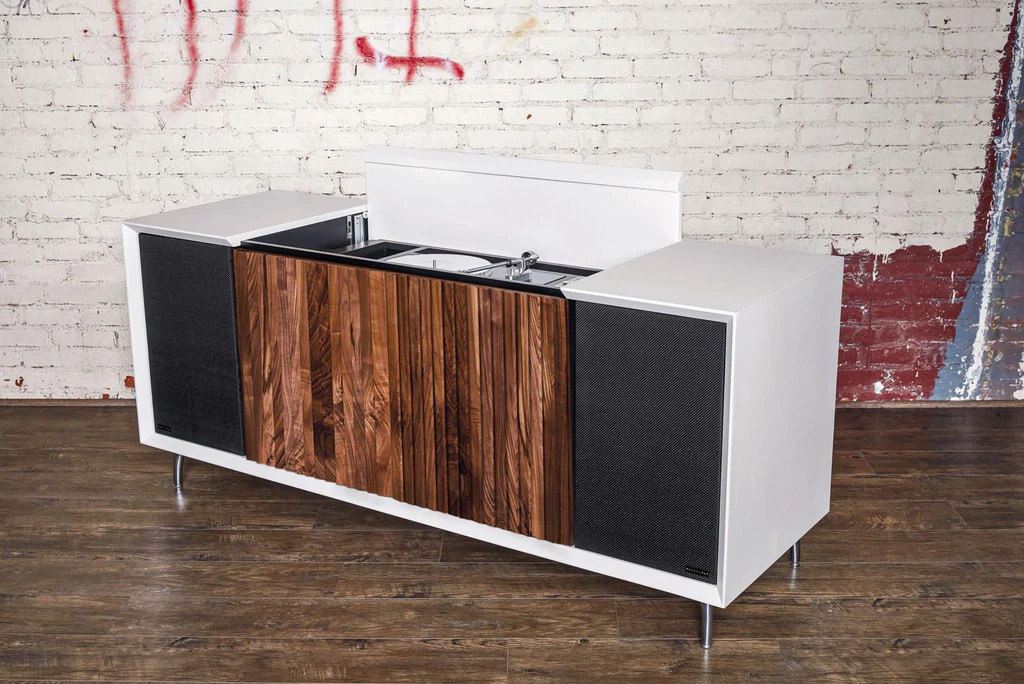 Wrensilvia's M1 is the company's flagship console, and its top-selling model. Featuring rich North American walnut, the M1 Wrensilva SONOS edition's sleek design is right at home in any contemporary space.
The HiFi console looks more like a piece of modern furniture than a turntable. In between uses, it will blend seamlessly into your home's design.
The M1 may look like a vintage record player, but its technology is anything but outdated. Whether you're listening to vinyl or streaming, the M1 has you covered. This console is a great addition to any audiophile's home. This console has dimensions of 59" W x 28" H x 19" D.
The M1 features six listening modes:
Premium turntable
Bluetooth
SONOS functionality
3.5 mm mobile jack
Two RCA inputs for old-school hook-ups (like cassette decks)
The M1 offers a lighted upper deck for style and convenient storage for your vinyl records both on deck and underneath. In total, the console offers enough storage for up to 120 records. The speaker frames feature magnetic fasteners and are removable, so you can find a setup that meets your needs.
Features like engraved faceplates and aluminum knobs take the M1's design to the next level. The console also has adjustable aluminum legs for leveling, so it can fit in any space.
The control knobs are easy to access and use. With the click of a knob, you can switch between Bluetooth, SONOS and any of the other convenient listening modes.
The M1 Sound
Let's dive into the most important thing – the sound.
Amp: Bang & Olufsen's IcePower 300 wpc Class D; solid-date pre-amp
Speakers: 7" coated paper cone LF driver, 1" textile dome HF driver, 2-way bass reflex, 2000hz crossover frequency
SONOS integration allows you to seamlessly switch between vinyl records and streaming. And you can pair your console with any SONOS speakers in your home. App control allows you to access your streaming services and radio stations from one convenient place.
The M1 Turntable
The M1's turntable features:
Wrensilva's unique split plinth construction
Fully decoupled belt with VPI 9" Yoke turnarm
600 rpm turntable motor from VPI/Hurst
1" aluminum platter and bearing from VPI
Playback speeds of 11-1/3rpm and 45rpm
2m red MM cartridge from Ortofon
The M1's beautiful design and superb audio quality make this a truly exceptional console. No matter your listening preference – records, streaming, old-school cassettes – the M1 can accommodate your needs and tastes.
Wrensilva's Standard Model
Wrensilva's standard one console combines the style and feature of high-fidelity audio with handcrafted modern furniture that fits into any home. At first glance, you might think the Standard is the M1 – they look a lot alike – but it's different.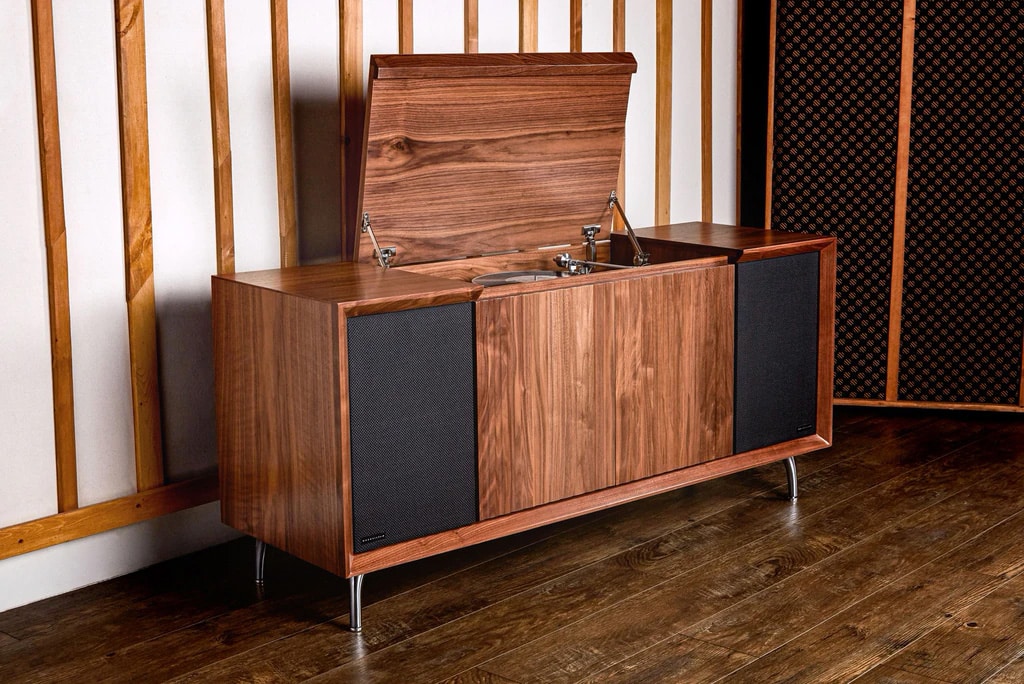 Precision crafted, the Standard has six listening modes that includes a top-of-the-line turntable to supply you with premium sound from your vinyl's first song to the last.
And if you don't want to listen to a vinyl, the Standard allows you to stream music.
Wrensilva put a lot of attention-to-detail into the Standard, with the following high-end features that you won't find anywhere else:
Six listening modes to go with your mood and home's ambiances (Vinyl, SONOs, Bluetooth, Mobile, Aux 1 and Aux 2).
SONOS functionality to connect to your existing system
Bluetooth connectivity to stream music from all of your favorite devices
RCA inputs to connect your old cassette deck to the Standard
3.5mm mobile jack
As the focal point of your space, you'll be happy to know that the Standard has dimensions that allow it to make a statement in your home without taking up too much space.
The Standard's dimensions are:
Depth of 19 inches
Height of 28 inches
Width of 59 inches
When looking at the unit, the upper deck is lighted, and you'll find that there's a record storage pocket on the deck and even more space underneath to store all of your records. The knobs boast aluminum knobs and an engraved faceplate.
Magnetic fasteners make the speaker frames removable while also offering a sleek, hidden design concept.
If your home is like most homes, the floor may not be exactly level in all places. Polished aluminum legs are included, and they're 100% adjustable so that you can easily level your Standard.
Torque hinges are an integral part of the design process and allow for rattle-free listening. You can blast the unit's 2-way bass reflex speakers and won't have to worry about sound degradation in the process.
Speaking of speakers, sound is provided with the unit's:
Solid state pre-amp
300wpc output
LF Driver- 7″ Coated paper cone
HF Driver- 1″ Textile dome
Crossover frequency 2000hz
And the turntable offers a completely decoupled, belt-driven design with 33-1/3rpm and 45rpm playback speeds. VPI's components are heavily used in the construction of the Standard with VPI supplying:
9" vertical Yoke tonearm
600rpm turntable motor
1" aluminum platters
Bearing
There's also a 2m Red MM Ortofon cartridge included. With the option of swapping between six listening modes, you can listen to music the way you want.
What About the Wrensilva Loft?
Wrensilva's Loft Record Player Console deserves some mention because it's the perfect choice for small spaces. Want to fill your loft or studio with premium sound? The Loft is your solution. This record player provides the power of the M1 and Standard in a much smaller footprint.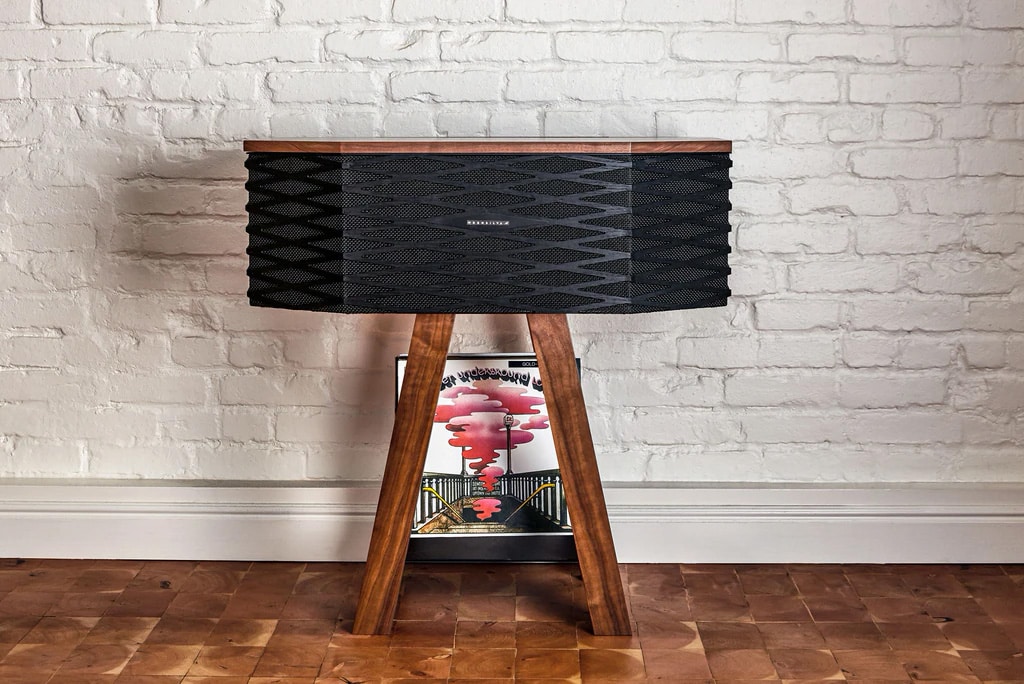 Elegant and flexible the unit boasts three listening modes and record storage in a thoughtful design concept.
A built-in amplifier offers 100 watts per channel of amplification along with:
SONOs functionality
Turntable
Bluetooth connectivity
Storage of up to 60 albums
But what about size? The Loft is only 32 inches wide, 33 inches high and 20 inches deep. North American walnut and ebonized oak grille complete the look of this small yet powerful modern stereo console.
Vibration isolation was used on both the deck and between all of the speakers to stop the unit from vibrating even when you have the volume turned all the way up.
The adjuster feet offer a solid walnut material perfect for precision leveling. Solid aluminum is used to engrave both the faceplate and the knobs. With the solid state pre-amp and 100 watt per channel speakers, the Wrensilva Loft packs a lot of power in a small unit that can fit in even the smallest space or corner.
SONOs compatibility allows for seamless switching between music streaming and your favorite vinyl albums. One app allows you to fully control the Loft and SONOs so that you only need one app to listen to your music library.
Wrensilva's high-end construction and modern take on vintage record player consoles allows you to enjoy the best of both worlds in music. You can connect to the consoles using Bluetooth or SONOs, or you can put on an old vinyl record and listen to blasts from the past.
Unlike most music consoles, Wrensilva gives you the option to stream music or listen to vinyl with seamless integration and switches.

To get yours, visit Wrensilva.com