Womb Chair & Ottoman Guide
You can't talk about midcentury modern furniture without mentioning the classic Womb lounge chair and ottoman combo. The iconic chair helped pave the way for MCM design in America and changed the way we thought about lounge chairs.
But what is the history behind the chair and who designed it?
Where can you find a quality replica? Let's dive deep into the story behind the MCM Womb lounge chair and where to get your hands on a look-alike.
The History of the Womb Chair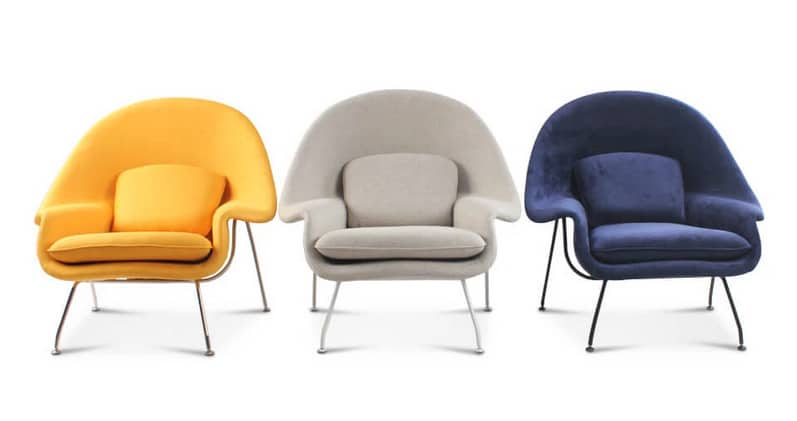 In 1946, Florence Knoll – the famed architect and designer who put mid-century modernism on the map in the US – sent out an important request. She wanted a chair that felt like a "basket full of pillows."
Specifically, Knoll wanted a chair that she could curl up or sit sideways in. She was sick of "long and narrow" lounge chairs, and wanted a chair that offered the ultimate in comfort.
Ero Saarinen answered the call, and the Womb lounge chair was born. Fast-forward 70 years, and the chair is still beloved by fans of comfort and midcentury modern design.
But bringing Saarinen's and Knoll's vision to life wasn't a walk in the park. Saarinen envisioned a minimalistic silhouette for this chair, but finding the right material was tricky. Knoll and Saarinen turned to a new material that was being used to create hulls for Navy vessels during WWII. They found a boat builder in New Jersey who reluctantly agreed to help.
Through trial and error, they finally created a chair that ticked all the boxes.
Indented armrests supported the arms in a traditional seated position, but they were strong and durable enough to support a leg if the user switched positions.
A deep seat made it easy for users to tuck their legs underneath them if they wished.
Foam was molded over the base of the chair and topped with either leather or fabric. Foam cushions were added for extra padding along the seat and back.
The chair is made with a single fiberglass shell that sits atop a chrome steel frame.
At the time of its launch, the original Womb chair became the epitome of comfort and style in American home furnishings. The chair was featured in the 1958 Coca-Cola advertising campaign, which showed Santa Claus enjoying a Coke while sitting in the chair. Womb chairs also made appearances in the Saturday Evening Post and the New Yorker.
Who Designed the Womb Chair?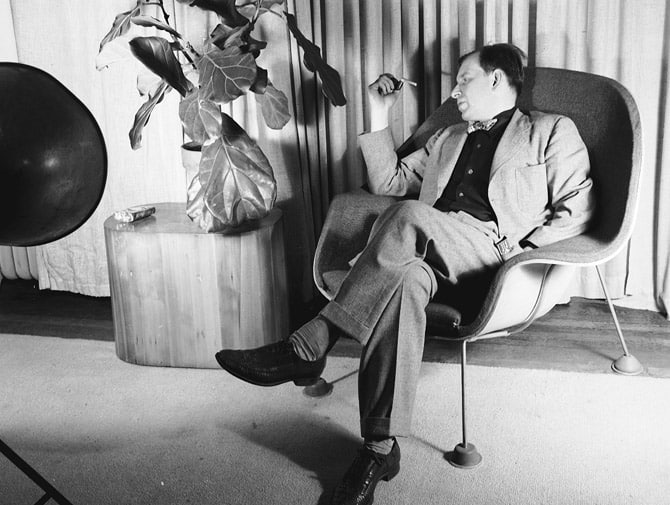 Eero Saarinen is the man behind the iconic Womb chair design. Saarinen was born in Finland to world-famous textile designer Loja Saarinen and architect Eliel Saarinen.
By the time he was a teenager, Eero was helping his father design fixtures and furniture for the Cranbrook Academy of Art. After that, he would go on to study sculpture in Paris and complete the architecture program at Yale.
Eero would eventually design for Knoll after Florence Knoll joined the company. The two had been close friends for many years. Along with the Saarinen Womb chair, Eero designed many of the company's other iconic pieces, including the Tulip chairs and the 70 series seating.
Eero brought his study of sculpture to his work, and he built hundreds of models as well as full-scale mockups of his designs. He would not stop until he found the perfect line, curve and proportions.
Eero worked on other projects as well, with his most notable ones being:
Dulles International Airport in Washington, DC
The TWA Terminal at Kennedy International Airport
The Gateway Arch in St. Louis
The CBS headquarters in New York City
While it's hard to beat the original Womb chair design, Knoll's price tag is high for the average person: $6,000+ if you want the chair and ottoman.
Fortunately, you can find replica womb chairs that are just as comfortable and come at a more affordable price.
What's The Best Womb Chair Replica?
Eternity Modern offers the best replica chair we've seen. In fact, they have over 60 different color and material options for you to choose from.
There are two main options that you need to consider when making your purchase:
Legs: chrome or powder-coated
Colors: each comes in its own color assortment
Aside from these two details, the chairs still have the same quality and perfection as the original chair designed by Eero Saarinen.
The chair boasts:
Overall Dimensions: 38″ W x 33.5″ D x 36.5″ H
Seat-back: 22″ H
Seat: 23″ W x 18″ D x 16.5″ H
Armrest: 19″ H
Ottoman: 26″ W x 17.3″ D x 17.7″ H
Weight: 80lbs
When your replica womb chair arrives, it's fully assembled. The shell of the chair is constructed with molded fiberglass along with urethane foam. The cushion itself is true to the original, with a medium firmness, but you can customize the softness if you like.
Premium fabric is used for the chair's material, and there is aniline leather and top grain fabric available.
You can remove the cushions to clean them off if you like.
Baby-friendly design practices were followed during the chair's manufacturing, so you never need to be concerned about your baby sitting in the womb chair. In addition, all materials are non-toxic and fire-resistant, so they're safe and baby-friendly.
Legs are removable, so if you have issues bringing the chair through the door, other buyers have taken the legs off and put them back on when inside.
"Lovely" is one way to describe the womb chair by Eternity Modern.
Curl up with a book in the womb chair and feel like you're being "hugged" the entire time.
Womb Chair Replicas FAQ
Can you finance the womb chair?
Yes. At the time of writing this, the womb chair can be financed through Affirm if you meet certain requirements. You can prequalify right on the Eternity Modern website. Pricing starts as low as $165 per month, which means you'll pay off your chair in less than a year (depending on your specific terms).
How long is the womb chair's warranty?
Eternity Modern backs all of its products with a one-year warranty. The warranty period begins from the date of delivery and will protect the chair against any defects from "normal" wear and tear.
Can you extend the womb chair's warranty?
Yes. You can add additional accident protection at the time of ordering. The protection will include a:
3-year option
5-year option
The warranty is extensive. You will enjoy no fee, fast repairs or replacement if anything happens to your chair during the warranty period.
Can you customize Eternity Modern's womb chair?
Eternity Modern does have a "Made to Order" option on their site. If you don't mind waiting longer for your chair's delivery, you can choose from a wide range of color and material options to customize the chair.
You can request that the manufacturer use your own custom material when making your chair.
However, when you order a custom chair, all sales are final when using your own material. Eternity Modern cannot guarantee the material chosen will be able to stand up to wear and tear.
How much does it cost to ship the womb chair?
Shipments in the United States are often free, thanks to the fast, free shipment option offered by Eternity Modern. It's important to note that you'll need to spend over $1,500 to claim the free shipping option, but you need to verify that the deal is ongoing at the time of purchase.
Shipping is available in North America.
If you live in a remote area, be sure to reach out to customer service to ensure delivery is possible.